Hard drives have been the bane of console gamers for many years. A decade ago, you'd have super-fast silicon chips ready to render the latest games only for the laggardly, mechanical hard drive to take an age to load them in the first place (along with subsequent new levels when you're already playing).
Things have finally improved with the latest, next-gen consoles (namely the PlayStation 5 and Xbox Series X) using speedy, up-to-date SSD technology. However, in the interim, game sizes have ballooned to the point where even the current storage capacity can feel constrictive. Fortunately, there's help at hand in the form of external SSDs.
More games and saves, less fuss
Both the PS5 and Xbox Series X have usable capacities of just-under a terabyte. Meanwhile, the Xbox Series S has a 512GB internal drive. While this sounds large, once you realise that AAA titles (for example Call of Duty: Warzone) are pushing 100GB, your perspective can shift. If you want your games library to actually resemble a library and not a poorly stocked bookshelf, you're going to need more storage. Otherwise, you're going to be stuck in a cycle of deleting games that you haven't played recently and (re)downloading new games to cram into the freed-up space. It's a bit like the old days where you'd have to choose which precious game-save files to keep on your expensive memory sticks… and nobody wants a return to that.
The good news is that, thanks to the evolution of speeds in connected storage, you can now swiftly move PS5 and Xbox games from the internal drive to external storage (and back again) without taking forever. You can even play PS4 games on a PS5, direct from the SSD!
Even better news is that the SSDs you need to do this are now available in high capacities and at reasonable prices.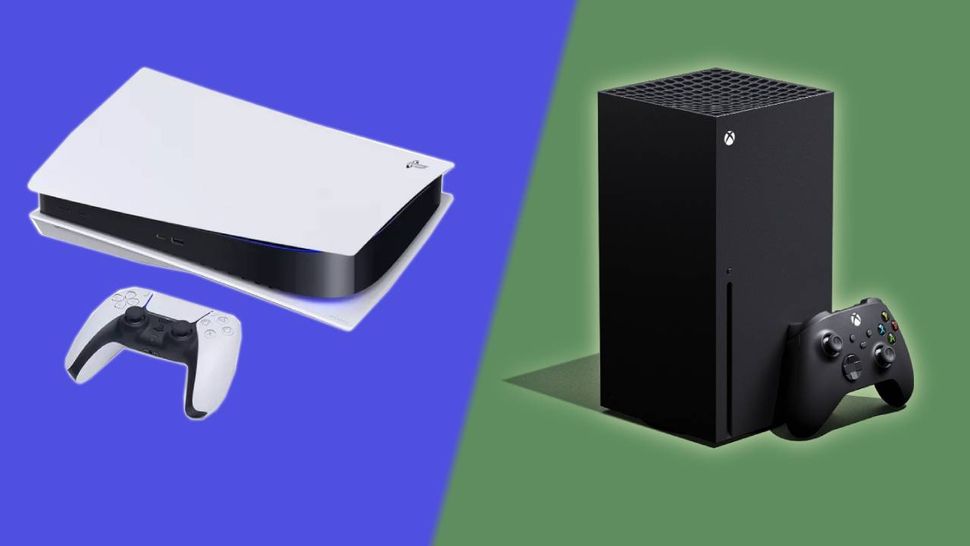 Adding performance to your console
Samsung's latest range of T7 external SSDs will be attractive to gamers, offering high speeds and capacities. They're also excellent for anyone who needs to easily transfer files from one place to another. This is especially true for photographers, designers and videographers who work with gargantuan media files, who don't have time to wait and who don't want to carry large hard drives around.
Whereas cutting-edge, high-capacity, mechanical, consumer-designated drives have read and write speeds that might get near 300MB/s in optimum settings, Samsung's portable T7 SSD uses the latest USB 3.2 Gen 2 connectivity to reach maximum read and write speeds of 1,050 and 1,000 MB/s respectively. Not only is that over 3x the speed of some mechanical hard drives, it means it's more-than twice as fast to move games to-and-from a T7 when connected externally to a console!
At last, parking games on an external SSD has suddenly becomes less of an issue… that's transformative if the alternative is to re-download a game that's scores of gigabytes in size over a dodgy internet connection!
Other benefits
SSDs are less susceptible to the shock or impact from falls and are more robust compared to mechanical drives as there are no moving parts. The Samsung T7 drives can even withstand falls of up to 2m and are backed by a three-year warranty¹. If you're security conscious and want to further protect the data stored on a drive, then know that the T7 Touch variant offers fingerprint security. Both types are backed by secure AES 256-bit encryption.
Another boon of Portable SSD T7 drive is something called ePCM (encapsulated phase change material). On the off chance you're not familiar with that term, it's a special thermal technology that helps regulate internal temperature to ensure that it will operate at optimum speeds in high temperature environments.
If you're worried that all of this comes in an unwieldy case that's hard to carry, worry not: Samsung's T7 drives measure only 57 x 85 x 8mm and weigh only 58 grams each! You can easily carry a couple around in your jeans pocket. This is great if you want to bring a game round to a mate's house to play!
Why choose Samsung T7?
Whichever console you have, be it a PC, Mac or games console, a Samsung Portable SSD T7 drive will attach to it and enhance its capabilities. Samsung even includes both USB-C-to-USB-C and USB-C-to-USB-A cables in the box for added convenience. With capacities of 500GB, 1TB and 2TB, they'll enable you to more than double the storage on whatever games console you have.
---
¹ Ts & Cs apply. See Warranty card or visit www.samsung.com.au/support for full details.